Ford Mustang History
1979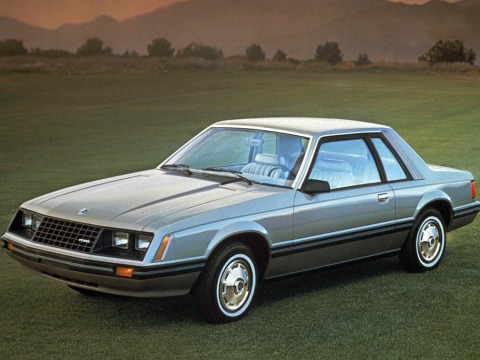 Like the two previous redesigns, the 1979 Mustang is based on an existing platform. The Fox platform, which supports the Fairmont and the Mercury Zephyr, is an ideal match for Mustang. Longer and taller than the Mustang II, it is no minor feat that the latest evolution weighs 200 pounds less.
Chief designer John "Jack" Telnack is credited with giving Mustang its updated "Euro" look. An aero polyurethane nose, rectangular headlights, egg crate-style grille, raked windshield and cleaner lines, not to mention the lowest drag coefficient to date, 0.44, are a complete departure from the Mustang II.
An available TRX handling package reacquaints the Mustang enthusiast with performance handling. Complemented by 15.3-inch aluminum wheels with 195/65R390 Michelin TRX elliptical radials, the TRX handling package features revised bushings, antisway bars, shocks, struts and springs.
Underneath, a 2.3-liter turbocharged four-cylinder and the 5.0L V8 provide a respectable base for engineers to tweak in the years to come.
The redesigned 1979 Mustang is the Official Pace Car of the 63rd Annual Indianapolis 500. Jack Roush and the Roush Racing team equip the Mustangs pacing the race with Boss 302 parts and a blueprinted heavy-duty block. 351 Windsor heads, forged steel crank and connecting rods, four-barrel Holley carbs and free-flowing, 1.54-inch, dual exhausts comprise the hardware. With C-4 three-speed automatic transmissions and a tall rear axle ratio, these 250-plus-horsepower Fox Mustangs are right at home in front of the field.
The Cobra model was carried over from the Mustang II. Like all 1979 Mustangs, it featured an egg-crate style grille. The lower body of the Cobra was painted black, a non-functional hood scoop gave the Cobra an aggressive look, and the rear-window louvers were painted the body color. The '79 Cobra was only available as a hatchback.
1979 Mustang sales surpassed those from 1978 by more than 150,000 units.
Total U.S. Production: 396,936
Engines
2.8L 2V V6 109HP Z Code
2.3L 2V 4-cyl 132HP W Code (turbocharged)
5.0L 2V V8 140HP F Code
3.3L 1V 6-cyl 85HP T Code
2.3L 2V 4-cyl 88HP Y Code
Production
Hatchback, standard: 120,535
Hatchback, Ghia, standard: 36,384
Coupe, standard: 156,666
Coupe, Ghia, standard: 56,351
-Total-: 369,936
Prices
Coupe, standard: $4,494
Hatchback, standard: $4,828
Coupe, Ghia, standard: $5,064
Hatchback, Ghia, standard: $5,216
Colors
Bright Blue
Bright Red
Bright Yellow
Dark Jade Metallic
Light Chamois
Light Medium Blue
Medium Blue Glow
Medium Gray Metallic
Medium Vaquero Gold
Polar White
Red Glow
Silver Metallic
Tangerine
Black
Medium Chestnut Metallic
Recent Forum Posts
Participate In The Forums
Create new posts and participate in discussions. It's free!
Sponsored Links