Ford Mustang History
1982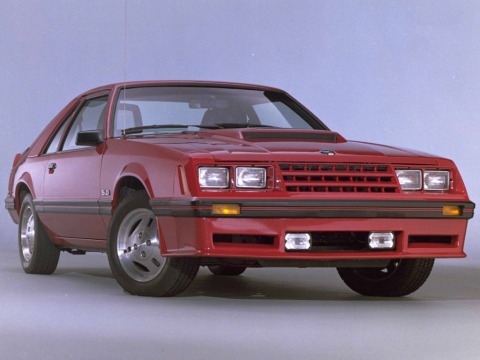 The Mustang GT makes its long-awaited return, replacing the Cobra and the Ghia models. The GT's 5.0L H.O. realizes a significant increase in horsepower and performance, the result of high-performance camshaft, double-roller timing chain, two-barrel Holley carburetor and a four-speed Traction-lok rear end.
Lowered front air dam, a pair of menacing fog lights, front-facing hood scoop (non-functional) and rear spoiler reflect the enhancements made under the hood. More significant than its exterior and Recaro bucket seat interior, however, serious performance is taking shape.
The GLX was also available in 1982. The GLX was just a GT with a few more options.
Total U.S. Production: 130,418
Absent from the lineup for the past 13 years, the Mustang GT makes its return.
The California Highway Patrol purchases 400 5.0L notchback Special Service Mustangs, just in case anyone thinks they're going to outrun the law.
Engines
4.2L 2V V8 120HP D Code
5.0L 2V V8 157HP F Code
2.3L 2V 4-cyl 88HP A Code
3.3L 1V 6-cyl 94HP B Code
Production
Hatchback, standard: 69,348
Hatchback, Ghia, standard: 9,926
Coupe, standard: 45,316
Coupe, Ghia, standard: 5,828
-Total-: 130,418
Prices
Coupe: $6,346
Hatchback: $6,979
Coupe, GLX: $6,980
Hatchback, GLX: $7,101
Colors
Bright Red
Dark Blue Metallic
Dark Cordovan Metallic
Dark Curry Brown Metallic
Medium Blue Glow
Medium Vanilla
Medium Yellow
Pastel Vanilla
Polar White
Silver Metallic
Bittersweet Glow
Black
Medium Gray Metallic
Red
Recent Forum Posts
Participate In The Forums
Create new posts and participate in discussions. It's free!
Sponsored Links