Ford Mustang History
1994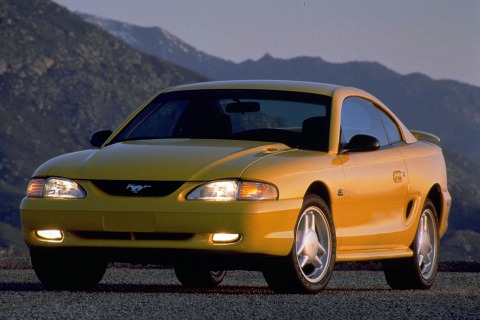 As early as 1989 it is determined that Mustang cannot continue much longer in its present form. Government mandated driver-side and passenger-side passive restraints, emissions and fuel economy standards make it impossible to produce the Fox-chassis Mustang economically beyond August 30, 1993. CEO Alex Trotman decides to appoint someone who is dedicated to preserving the front engine, rear wheel drive Mustang. Someone who is willing to work on the project on their own time.
Due to the fortitude of Mustang Business Planning Manager, O.J. "John" Coletti, along with Mustang Program Manager, Mike Zevalkink, and their after-hours "skunk team," a new Mustang is built around existing powertrain and chassis hardware. The platform, called Fox-4, is structurally more solid, owing mainly to larger rocker panels, roof rails and stronger joints. These changes go a long way toward preventing NVH (noise, vibration and harshness) and providing enhanced handling characteristics.
1994 marked the much-anticipated debut of Ford's fourth major Mustang redesign. The new pony car had plenty of power and more panache than ever, with styling cues picked up from 1964. The grille pony returned in 1994 after a 16-year absence. Designers said it was one of the best decisions they'd ever made.
Borrowing in part from the two-seater Mach III concept, the look of SN95 captures the earliest Mustang, yet is considerably more aerodynamic. Cat-like wrap-around headlights surround the grille and galloping pony emblem to create a face that is distinctly reminiscent of vintage Mustangs. A muscular, ridged hood sweeps effortlessly into a sharply raked windshield and short rear deck. Retro hood vents and side scoops and layered tri-bar taillights complete the major styling themes of the new Mustang.
A revamped interior is equally inspired. Instruments are surrounded by separate spheres for driver and passenger that originate in the dash and curve downward into the shifter bezel.
Engines include the 215-horsepower 5.0L V8 with silicone-alloy pistons, roller-cam valvetrain, 65 mm throttle body and tubular exhaust headers and a 145-horsepower 3.8-liter V6, which, like the 5.0L, features sequential electronic fuel injection.
Like its first-generation cousin, the 1994 Cobra convertible was selected as the pace car for the Indy 500. All 1994 Cobra convertibles were Indy 500 Pace Car editions. Just over 5000 other 1994 Cobra coupes were produced, and were available in only red, white, or black. The spoiler on Cobras were different than on other models, and included a built-in LED stop lamp.
The Mustang convertible, like all 1994 models, was well received by Mustang fans and sold well. The 1994 production Mustang sold a total of 123,198 vehicles, almost 10,000 units more than the previous year. Convertibles sales were a healthy 53,714.
Engines
3.8L V6 145HP (Standard)
5.0L V8 215HP (GT)
5.0L V8 240HP (Cobra)
Production
Coupe, standard: 42,883
Coupe, GT: 30,592
Coupe, Cobra: 5,009
Convertible, standard: 18,333
Convertible, GT: 25,381
Convertible, Cobra: 1,000
-Total-: 123,198
Prices
Coupe, standard: $13,365
Coupe, GT: $17,280
Convertible, standard: $20,160
Coupe, Cobra: $21,300
Convertible, GT: $21,790
Convertible, Cobra: $25,605
Colors
Black: 19,849
Bright Blue: 6,191
Canary Yellow: 4,038
Crystal White: 18,760
Deep Forrest Green: 18,869
Iris Metallic: 1,304
Laser Red: 22,345
Opal Frost: 4,048
Rio Red: 13,793
Teal: 11,948
Vibrant Red: 2,453
Recent Forum Posts
Participate In The Forums
Create new posts and participate in discussions. It's free!
Sponsored Links