by
shnack
on Saturday, March 6, 2010
Comments (0)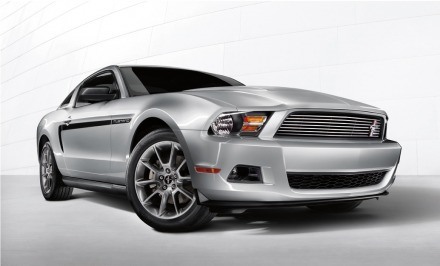 DEARBORN, Mich., March 4, 2010 – The 2011 Ford Mustang today breaks new ground, cracking the record books as not only the most fuel-efficient Mustang ever, but also the first production car in history to produce more than 300 horsepower and more than 30 mpg highway.
The Mustang's official EPA ratings – completed this week – certify that coupe models equipped with the 305-hp 3.7-liter V-6 and available six-speed automatic transmission achieve 31 mpg on the highway and 19 mpg in the city. The standard six-speed manual transmission is rated at 29 mpg on the highway and 19 mpg in the city.
"The Mustang engineering team aimed high and, through hard work, achieved fuel economy numbers that elevate Mustang into a class by itself," said Derrick Kuzak, Ford group vice president, Global Product Development.
"At no other time in Mustang's history – for that matter, in automotive history – have we been able to talk about 305 horsepower and 31 miles per gallon. The Mustang truly is a no-compromises sports car," said Kuzak.
Mustang is powered by a lightweight, all-aluminum 3.7-liter dual-overhead-cam (DOHC) V-6 engine that uses advanced engineering to deliver its combination of power and economy. Twin Independent Variable Camshaft Timing (Ti-VCT) adjusts the valvetrain in microseconds depending on driver inputs, further contributing to the engine's overall efficiency.