by shnack on Monday,
December 27, 2004
Comments (0)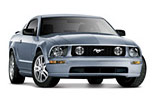 DEARBORN, Mich., Dec. 22, 2004 -- Like a massive automotive supernova, the 2005 Mustang is lighting up Ford dealerships across North America.
Checkbooks in hand, customers are often waiting outside dealerships before the new Mustangs are even unloaded from their carriers. Others are snapping them up as soon as the vehicles hit the showroom floor.