by shnack on Saturday,
March 19, 2005
Comments (0)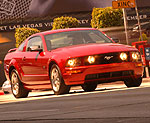 DEARBORN, Mich., March 17, 2005 - What's an auto company to do when demand for a hot model exceeds supply? Give the customers what they want.
Ford today announced that it will take production of the hot new Mustang to more than 192,000 units in 2005 - an increase of more than 70 percent, or 80,000 units, from the previous year.