by shnack on Thursday,
February 17, 2005
Comments (1)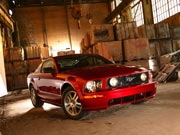 -2005 Ford Mustang named 'Canadian Car of the Year' by the Automobile Journalists Association of Canada.
-Mustang sales galloped to a second straight sales increase in January, its best since 2001.
-All-new Mustang convertible model arrives in dealer showrooms this spring for an additional volume boost.
TORONTO, ON - February 16, 2005 - Ford Mustang - an icon of North-American performance and the best-selling sports car in the country - today was named 'Canadian Car of the Year' for 2005.