by shnack on Thursday,
January 27, 2005
Comments (0)
Ford Racing Mustang GT to Compete in Grand Am Cup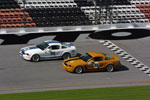 DEARBORN, Mich., Jan. 25 - The Ford Mustang and sports car racing. The two have gone hand-in-hand since the car's debut in 1964, and the latest version of Ford's "pony car" will soon be returning to the track in the Grand-Am Cup Series.
Today, Ford Racing and the Grand American Road Racing Series announce that Ford Racing's 2005 Mustang GT race car has been homologated to compete in the GS Class of Grand-Am Cup. The Ford Racing Mustang GT race car is based off the all-new 2005 Mustang GT that recently hit showroom floors at Ford dealerships around the country.