by shnack on Friday,
October 1, 2004
Comments (0)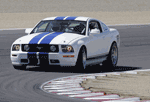 The Ford Mustang, performance, and racing. All three have been synonymous since the car's debut in 1964, and the latest version of "America's car" will soon be the target for "hot rodders" and racers alike.

Today, Ford Racing announces a development program to expand its performance parts catalog offerings to include the new 2005 Ford Mustang. The new Mustang carries on the tradition of affordable performance and will most definitely be the target of enthusiast "tuners" and racers.