by shnack on Wednesday,
November 3, 2004
Comments (0)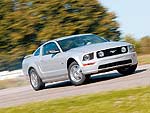 Muscle Mustangs and Fast Fords has published an article on the new 2005 Ford Mustang. They put it through its paces and let us know what they think of it:
It's a strange feeling, getting into a Mustang and not recognizing anything. When you drive Mustangs for a living, write about them, photograph them, live and breathe them, you pretty much can get into one blindfolded and still find all the switchgear.
Read More at musclemustangfastfords.com