by shnack on Monday,
July 12, 2004
Comments (0)
Muscle Mustang & Fast Fords has published an article pitting the 2004 Mach 1 against a new Pontiac GTO. Here's an excerpt: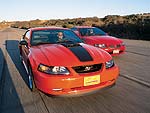 Can Ford's middleweight Mustang take out Pontiac's fire-breathing heavyweight? Strap in as we find out.
Choose your weapon: Ford's Mach 1 or Pontiac's GTO. Both are bonafide muscle machines with a strong pedigree. Each has a lively past filled with big-block engines, striking stripes, functional scoops and a street fighter's caliber. Ford fans waited 25 years for the mighty Mach to return and in 2003 it did with a vengeance. In only one year the modern Mach 1 proved its worth, scoring impressive numbers in MM&FF testing. In fact, it proved itself to be the quickest stock Mach ever.