by shnack on Tuesday,
October 30, 2012
Comments (1)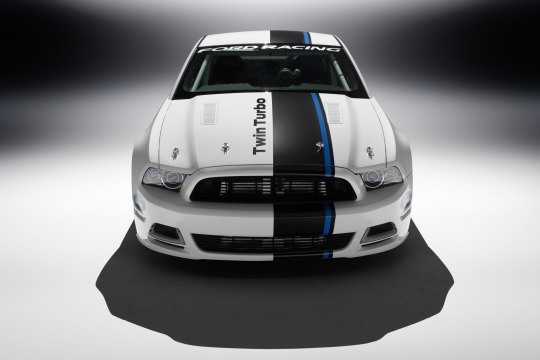 The Ford Racing Mustang Cobra Jet concept revealed today at the Specialty Equipment Market Association (SEMA) show proves there is indeed a replacement for displacement.
In the perpetual quest to stay ahead of the competition, for the first time ever Ford Racing has equipped its factory-built turn-key drag racer with a turbocharged engine, adopting the same award-winning technology found on road-going EcoBoost engines.
Winning heritage
When the original Mustang Cobra Jet drag racers rolled out of the Mustang factory in 1968, they relied on 7.0-liter V8 engines with massive four-barrel carburetors to propel them down the strip.
"When a new generation of Cobra Jets arrived four decades later, they immediately began winning with a modern, fuel-injected 5.4-liter V8 topped with a belt-driven supercharger," recalls Jesse Kershaw, Ford drag racing competition manager. "Over the past four years, the Cobra Jet has gone on to become both a fan and competitor favorite, the most successful late-model vehicle in drag racing."