by shnack on Sunday,
July 29, 2012
Comments (0)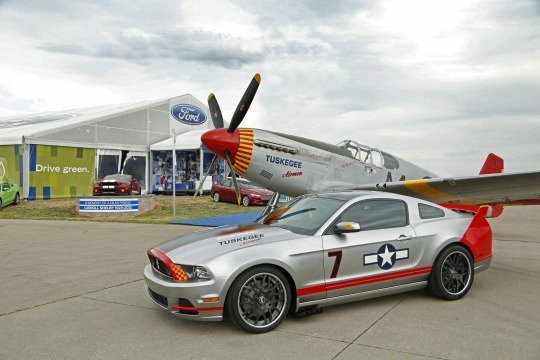 The one-of-a-kind 'Red Tails' edition 2013 Ford Mustang developed by the design and engineering teams at Ford Motor Company sold for $370,000 at the Gathering of Eagles charity auction Thursday evening. The auction was held during the Experimental Aircraft Association (EAA) AirVenture Oshkosh 2012, the world's greatest aviation celebration. James Slattery of San Diego, Calif. was the winning bidder.

All proceeds from the car donation and sale will benefit the EAA Young Eagles organization, which has provided free introductory flights to more than 1.6 million young people since 1992 while helping inspire and motivate the next generation of leaders, aviators and innovators.

The 'Red Tails' edition joins four other one-of-a-kind Mustangs created by the Ford design and engineering teams for the EAA Young Eagles Auction in recent years, each generating excitement among aviation and automotive enthusiasts alike. Ford vehicles sold at EAA AirVenture auction events have collectively raised more than $2 million to support Young Eagles.