Ford Mustang History
2005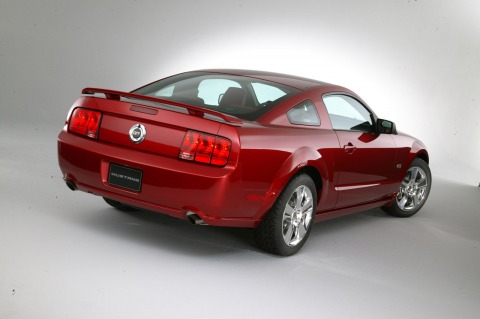 The standard engine is a 60-degree 4.0-liter SOHC V-6. It replaces the 3.8-liter 90-degree pushrod engine in the 2004 model. The 210-horsepower, 240 pound-feet engine - gains of 23 horsepower and 15 pound-feet over 2004 - is inherently smoother and more compact, providing more power and torque. They come with standard 16" wheels. An Exterior Sport Appearance Package is an option, and includes a rear spoiler and sport tape stripe on the lower rocker.
Muscular new engines infuse Mustang GT with tire-smoking performance. The 4.6-liter all-aluminum V-8 has three-valve heads and cranks out 300 horsepower. Because it has an aluminum block, it weighs 75 pounds less than a comparable cast-iron design while delivering 40 more horsepower than the 2004 engine. That's more than 50 percent more power than the small-block 289-cubic-inch V-8 found in the classic 1964 model. Motor Trend ran a 2005 Mustang GT 5-speed from 0 to 60 in 5.1 seconds and ran the quarter mile in 13.5 seconds at 103 mph in the January 2005 issue. The Mustang GT comes standard with a rear spoiler, but a spoiler delete option is available. 17" wheels are standard.
The 2005 Mustang GT was selected to pace the NASCAR Nextel Cup Banquet 400 and Ford 400 in the 2004 season.
A T-5 five-speed manual transmission is standard, but for the first time, a five-speed automatic transmission is available.
Engine Options
4.0L SOHC V6 210HP 240lb.ft. torque
4.6L SOHC 24v V8 300HP 320lb.ft. torque (GT)
Production
Transmission - Manual: 49,963
Transmission - Automatic: 110, 449
Model - V6: 99,620
Model - GT: 60,792
Body - Coupe: 118,286
Body - Convertible: 42,126
Total: 160,412
Prices
V-6 Coupe Deluxe $19,770
V-6 Coupe Premium $20,595
V-6 Convertible Deluxe $24,495
V-6 Convertible Premium $25,320
GT Coupe Deluxe $25,570
GT Coupe Premium $26,750
GT Convertible Deluxe $29,995
GT Convertible Premium $31,175
Colors
Black: 29,335
Legend Lime: 7,741
Mineral Gray: 16,590
Performance White: 14,890
Redfire: 18,627
Satin Silver: 21,194
Screaming Yellow: 8,438
Sonic Blue: 9,094
Torch Red: 20,110
Windveil Blue: 14,393
Related Links
Recent Forum Posts
Participate In The Forums
Create new posts and participate in discussions. It's free!
Sponsored Links