Ford Mustang History
1999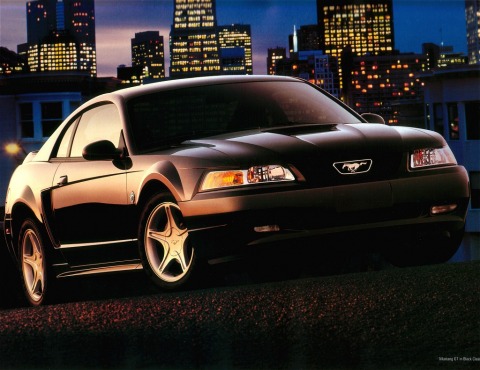 1999 marked Mustang's 35th anniversary, and Mustang got a fresh new look. Though still based on the Fox platform, the smooth lines from 1994-1998 were replaced with an edgier design. The grille corral reappeared for the first time since 1973. Both V-6 and GT Mustangs wore "35th Anniversary" fender badges.
Sweeping hood, side scoops and short rear deck recall the past, while crisp, beveled surfaces invite new interpretation.
Improved aspiration helps the 4.6-liter V8 and the 3.8-liter V6 engines increase horsepower more than adequately. A new Traction Control System is available to help detect and control drive wheel-spin, for improved traction and steering under slippery road conditions. Finally, revised shock and strut valving dampen ride harshness while providing better steering response.
Although every Standard and GT had the 35th Anniversary fender badges, only 4,628 GTs were 35th Anniversary Limited Edition models. There were 2318 coupes and 2310 convertibles. There were 515 that came in white, 1259 in silver, 1299 in black, and 1555 in Performance Red, which was only available on this limited edition. These Limited Edition GTs had a raised hood scoop with a black stripe which ran from the scoop down the front of the hood, extended side scoops, a wing-like spoiler, and a black honeycomb insert in the decklid.
The 1999 SVT Cobras had round foglamps and a small rear-facing hood scoop near the front of the hood. They were otherwise identical to 1999 Mustang GTs, even with "MUSTANG" in the rear bumper and GT seats. The '99 snakes did not have the corral around the grille pony. Though Ford advertised 320-hp for the '99 Cobras, they really only made 305. All of the cars received a new intake manifold, catback exhaust, and computer calibration to produce the as-advertised 320 hp.
Engines
3.8L OHV 12v V6 193HP (Standard)
4.6L SOCH 16v V8 260HP (GT)
4.6L DOHC 32v V8 320HP (Cobra)
Production
Coupe, standard: 73,180
Coupe, GT: 19,634
Coupe, Cobra: 4,040
Convertible, standard: 19,299
Convertible, GT: 13,699
Convertible, Cobra: 4,055
-Total-: 133,907
Prices
Coupe, standard: $16,470
Coupe, GT: $20,870
Convertible, standard: $21,070
Convertible, GT: $24,870
Coupe, Cobra: $27,470
Convertible, Cobra: $31,470
Colors
Atlantic Blue: 9,639
Black: 24,923
Bright Atlantic Blue: 1,048
Chrome Yellow: 6,811
Crystal White: 18,907
Dark Green Satin: 8,761
Electric Green: 6,372
Laser Red: 18,249
Performance Red: 1555
Rio Red: 13,956
Silver: 15,969
Recent Forum Posts
Participate In The Forums
Create new posts and participate in discussions. It's free!
Sponsored Links