Ford Mustang History
1963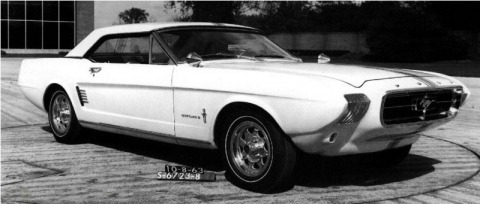 Henry Ford II's perceptive senior management is largely responsible for the birth of Mustang. With 1) the absence of an affordable American sports car, 2) the sales prowess of the Jaguar, the Triumph and the Austin Healy (80,000 units per year combined) and 3) the uproar due to the cancellation of a two-seater Thunderbird, Ford visionaries understand that a large number of Americans want to buy into the sports car dream. The fact that Ford has maintained robust sales in the preceding years and that baby boomers are entering the car-buying market only helps matters.
To be built upon the Ford Falcon unibody platform, Mustang is discussed at length before a single sketch is made. The all-consuming goal is to make a car that looks like no other. Joe Oros and David Ash are chiefly responsible for the design of exterior and interior. Sweeping hood, sculpted flank and short rear deck sets Mustang apart. In short order, the Gold Medal Tiffany Award for Excellence in American Design is bestowed upon their creation.
A series of Allegro concepts are quietly ignored. Many of these 99-inch wheelbase prototypes are prepared with design themes borrowed from the Thunderbird. other Allegro themes wind up in Europe.
The running prototype to the Mustang, the Mustang II concept is displayed at the U.S. Grand Prix. Its long hood, short rear deck, 108-inch wheelbase and various design cues, such as rear wheel scoops and tri-bar taillights, are directly incorporated into production Mustangs.
Recent Forum Posts
Participate In The Forums
Create new posts and participate in discussions. It's free!
Sponsored Links