Ford Mustang History
1964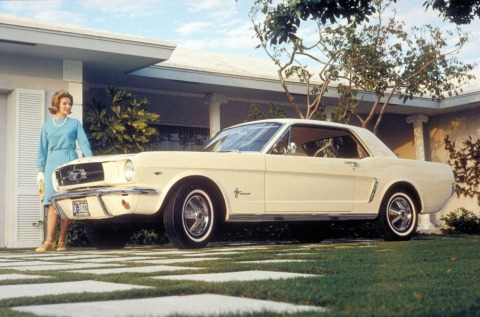 April 17, The affordable sports car tradition begins after only 18 months of development. With a price tag of a mere $2,320.96, Mustang costs roughly half as much as a Chevrolet Corvette.
Interior "Luxury options" include: full-length center seat console, air conditioner, convertible with power-operated top, vinyl tonneau cover and deluxe wheel covers. With its abundance of optional equipment, it is easy to imagine a Mustang for every type of personality.
Powertrain options begin with a 170-cubic inch diameter (cid), single-barrel carbureted inline-six, which is a carryover from the Falcon. The strongest pulling of the five available blocks is the 260 cid V8.
March 11, Henry Ford II's nephew parades a pre-production black Mustang to lunch in downtown Detroit. Newsweek picks up the "unauthorized" disclosure. This becomes one of several clever public relations schemes.
Magazine ads appear, hinting at a first look at the groundbreaking Mustang: "The most exciting thing on TV tonight will be a commercial." During the 9 p.m. time slot, 29 million Americans watch the "unveiling."
Mustang preoccupies the public's attention at the World's Fair in Flushing Meadows. Later, the automotive press takes to the road in a Mustang tour from New York to Detroit.
An eager press corps assembles on the Empire State building observation deck for a reveal of the Mustang. To manage the feat, a Mustang is disassembled, freighted up a service elevator, and reassembled.
May 31, Mustang is the official Pace Car of the 48th Annual Indianapolis 500. of the 36 Wimbledon White Mustang convertibles employed at the Brickyard, three K-code 271-horsepower 289 cid V8s are prepared for the parade lap.
A yellow convertible becomes the first Mustang to appear on the big screen in "Goldfinger." Bond gives chase in an Aston Martin DB-5.
September, the Mustang 2+2 Fastback is introduced. Essentially a semi-fastback, the roofline tapers halfway across the decklid.
For purposes of clarity, it is useful to note that Ford never referred to Mustangs as "'64" or "'64 1/2" models. These designations are the work of collectors who seek to differentiate an early '65 from a late '65.
Engines
170cid 1V 6-cyl 101 HP U Code
260cid 2V V8 164 HP F Code
289cid 4V V8 210 HP D Code
Production
Coupe, standard 92,705
Convertible, standard 28,833
-Total- 121,538
Prices
Coupe, standard $2,320
Convertible, standard $2,557
Colors
Guardsman Blue
Pagoda Green
Phoenician Yellow
Poppy Red
Prairie Bronze
Raven Black
Skylight Blue
Sunlight Yellow
Twilight Turquoise
Vintage Burgundy
Wimbledon White
Cascade Green
Caspian Blue
Chantilly Beige
Dynasty Green
Rangoon Red
Silversmoke Gray
Related Links
Recent Forum Posts
Participate In The Forums
Create new posts and participate in discussions. It's free!
Sponsored Links