Ford Mustang History
1966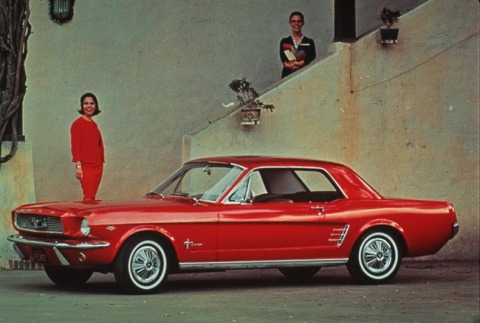 Much to the buyer's and collector's delight, Mustang is "refreshed" annually. The '66 loses its honeycomb grille in favor of a multi-bar treatment. The 1966 models had the running pony inside the corral free-floating on horizontal grille bars. Each model receives three-pronged, chrome-plated wind splits in the C-shaped rear wheel scoop (except for the GT). Backup lights are added and the gas cap and side mirrors are duly restyled.
On the interior, the instrument panel was redesigned with five round gauges, replacing the panel borrowed from the Ford Falcon for previous model years. Ford broke the 1,000,000 Mustang mark in 1966--18 months after its introduction. To celebrate, Ford released the Sprint 200 Mustang. They were mechanically identical to other six-cylinder Mustangs, but had a chrome air cleaner and a special engine decal which read "Mustang powered Sprint 200."
Carroll Shelby holds the reins of Ford's GT racing program. For the enthusiast this means a network of performance aftermarket parts are making their way to participating dealers. The 289 cid V8 again is the highest output option with 306 horsepower at 6,000 rpm. However, with the Shelby parts system in place, the Mustang fanatic can build their own street legal R-model.
The rear seat returned and more colors were offered on 1966 Shelby Mustangs, making them more consumer-friendly. The vents behind the windows were replaced with quarter windows on 1966 Shelbys to allow for more visibility. The fuel door wore a Cobra logo rather than the pony & tribar from '65. The first roughly 300 1966 Shelby G.T. 350s didn't get the "G.T. 350" decklid badge, but the rest did.
Hertz corporation ordered 1,001 of the G.T. 350s to offer as rentals. The side stripes read "G.T. 350H", but the cars became know as "Rent-a-Racers." Some cunning Mustang owners would rent the Shelbys, swap the motor with the motor in their Mustangs, and return them to Hertz. At $17 per day and 17 cents per mile, it was a good bargain for a Shelby engine. It was "uncool" to own a former rental car, so many of the cars were debadged after they were decommissioned. Thanks to the Shelby American Automobile Association, however, many of these cars have been found. More than 800 were made in black, and the other 200 or so were divided between red, green, blue, and white. Only the black models and a few white ones had stripes on the hood, but many owners added them to the other cars during restoration.
Only six Shelby G.T. 350 Convertibles were produced in 1966, all different colors, making them the rarest of Mustang convertibles. Shelby also produced 11 supercharged 1966 G.T.350S
In 1966 there were 333 High Country Specials produced. Only 35 of the 333 were convertibles. The High Country Special was a promotion that Ford ran from 1966-68. The Mustangs came in three special colors: Timberline Green, Columbine Blue, and Aspen Gold. All came with special emblems that dealers were free to mount where they wanted. They were only sold in Colorado, Wyoming, and parts of Nebraska.
Total U.S. Production: 607,568
Due to copyright laws, the name "Mustang" cannot be used in Germany. The Mustang project code, T-5, is used in its place.
Engines
200cid 1V 6-cyl 120HP T Code
289cid 2V V8 200HP C Code
289cid 4V V8 225HP A Code
289cid 4V V8 271HP K Code (Hi-Po)
289cid 4V V8 306HP (Shelby GT350-R)
289cid 4V V8 390HP (GT350S)
Production
Fastback, standard: 27,809
Fastback, luxury: 7,889
Coupe, standard: 422,416
Coupe, luxury: 55,938
Coupe, bench seats: 21,397
Convertible, standard: 56,409
Convertible, luxury: 12,520
Convertible, bench seats: 3,190
-Total-: 607,568
Prices
Coupe, standard: $2,416
Fastback, standard: $2,607
Convertible, standard: $2,652
Shelby G.T. 350: $4,428
Colors
Arcadian Blue
Brittany Blue
Candy Apple Red
Dark Moss Green (late '66)
Emberglo
Ivy Green Metallic
Light Beige
Maroon Metallic
Medium Palomino Metallic
Medium Silver Metallic
Nightmist Blue
Raven Black
Sahara Beige
Sapphire Blue (Shelby only)
Sauterne Gold
Signalflare Red
Silver Blue
Silver Blue Metallic
Silver Frost
Springtime Yellow
Tahoe Turquoise
Vintage Burgundy
Wimbledon White
Antique Bronze
Recent Forum Posts
Participate In The Forums
Create new posts and participate in discussions. It's free!
Sponsored Links