Ford Mustang History
1969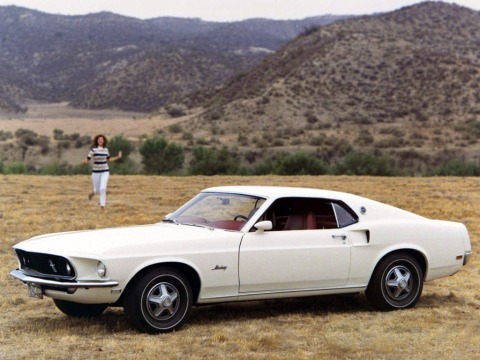 Dual headlamps were introduced in 1969, with the extra pair set into the outer area of the grille. The corralled grille pony was replaced with the pony and tribars logo, set off-center to the drivers side. The wheelbase remained 108 inches, but the overall length increased by almost 4 inches, and the width increased by almost half an inch. Coupes, fastbacks, and convertibles were still offered, but new models joined the lineup: Mach 1, Boss, and Grandé. All of these models took their toll on GT sales; they were continued in 1970, but the GT was not.
Only about 50 Mustang Es were produced. They were economy cars with a 250ci six cylinder engine, automatic transmission with a special torque converter, and a low 2.33:1 rear axle ratio. They were all sportsroofs, and had Mustang 'E' lettering on the rear quarters.
The 351cid V-8 was introduced in 1969, and was available with 250 or 290 hp. For those wanting more power, the 335-hp 428cid Cobra Jet V-8 big block was available with or without Ram-Air. More than 80 percent of Mustangs in 1969 had V-8 engines.
Under the auspices of Ford President Semon "Bunkie" Knudson, high output is the primary focus of the Mustang lineup. The Mach 1, Boss 302 and Boss 429 are the performance-ready stablemates Knudson has in mind. With a larger presence (the same wheelbase, but four inches longer than the previous generation, due mainly to the front overhang), the latest breed of Mustang presents a requisite dose of Shelby-influenced aggressive styling. Larger grille, swooping roofline and non-functional side scoops borrow from earlier Shelby Mustangs. Three basic models remain in the Mustang lineup: convertible, coupe and fastback, which is now called SportsRoof.
The Mach 1 makes available the 428 cid V8 CJ with or without ram-air, (an air intake affectionately referred to as "the Shaker" because it vibrates with the engine block). The Boss 302, on the other hand, blends formidable power with world-class handling. Cleveland heads and oversized intake valves bring power to the upper reaches, while lowered, heavy-duty suspension and seven-inch wheels shod with F60 rubber offer excellent handling characteristics.
Finally, the Boss 429 picks up on power where the Mach 1 leaves off. A 375-horsepower "Semi-Hemi" big block with NASCAR intentions is fitted into the engine bay, (NASCAR rules stipulate production of at least 500 "streetable" versions) severely challenging suspension and handling. Despite its unwieldy nature, 859 Boss 429 Mustangs are sold. A majority are stored by collectors.
As luxury amenities and rising insurance premiums begin to garner attention, Carroll Shelby builds his last Shelby Mustang. 1969 Shelbys got a full-width grille with integrated scoops. The hood had five small scoops; three forward-facing to force air into the engine and two rear-facing to extract heat. The functional side scoops helped cool the brakes.
Larry Shinoda, designer of the 1963 Corvette Sting Ray, is hired away from General Motors. Knudson places Shinoda in charge of the Ford Special Design center, where he promptly influences the look of the Boss 302 and Boss 429. His forte being aerodynamics, he incorporates smoother nose geometry, airfoils, airdams and spoilers into production.
Engines
200cid 1V 6-cyl 115HP T Code
250cid 1V 6-cyl 155HP L Code
302cid 2V V8 220HP F Code
302cid 2V V8 250HP H Code
302cid 4V V8 290HP G Code (Boss)
351cid 4V V8 290HP M Code
390cid 4V V8 320HP S Code
428cid 4V V8 335HP Q Code (Cobra Jet)
428cid 4V V8 335HP R Code (Cobra Jet-R)
429cid 4V V8 376HP Z Code (Boss)
Production
Fastback, standard: 56,022
Fastback, Mach 1: 72,458
Fastback, deluxe: 5,958
Coupe, standard: 118,613
Coupe, Grandé: 22,182
Coupe, deluxe, bench seats: 504
Coupe, deluxe: 5,210
Coupe, bench seats: 4,131
Convertible, standard: 11,307
Convertible, deluxe: 3,439
Boss 429: 867
Boss 302: 1,628
-Total-: 299,824
Prices
Coupe, standard: $2,618
Fastback, standard: $2,618
Convertible, standard: $2,832
Grandé Coupe: $2,849
Fastback, Mach 1: $3,122
GT350 Fastback: $4,434
GT500 Fastback: $4,709
GT350 Convertible: $4,753
GT500 Convertible: $5,027
Colors
Aztec Aqua
Black Jade
Calypso Coral
Candy Apple Red
Champagne Gold
Gulfstream Aqua
Indian Fire Red
Lime Gold
New Lime
Pastel Gray
Raven Black
Royal Maroon
Silver Jade
Wimbledon White
Winter Blue
Acapulco Blue
Meadowlark Yellow
Recent Forum Posts
Participate In The Forums
Create new posts and participate in discussions. It's free!
Sponsored Links