Ford Mustang History
1970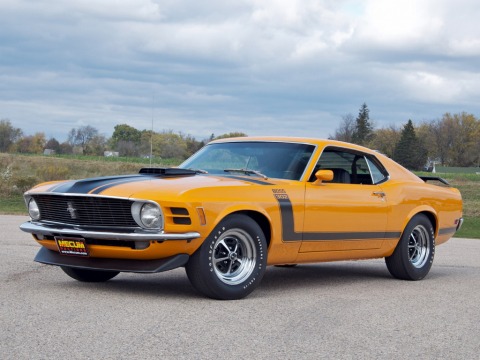 Few styling changes distinguish this from the previous model year. Two of the '69's four headlights vacate the cavernous grille and a new red, white and blue striped galloping pony emblem occupies its center. Non-functional side scoops are deleted.
"The Grabber," a sporty, C-striped, SportsRoof package is a sign of things to come as style becomes a prominent concern for '70s car buyers.
The engine lineup is little changed with the exception of the new big-block 351 cid four barrel V8. Its canted valves and larger ports resemble the 429 cid V8.
For the enthusiast, the Mach I 428 cid V8 receives a Drag Pack, 3.91:1 or 4.30:1 rear axle option. With stronger connecting rods and a heavy duty oil cooler, this application is well suited for the track.
The GT was removed from the lineup and would not return until 1982.
Ford made 96 Twister Specials for Kansas Ford dealers. They were Grabber Orange Mach 1s with special decals. Ford also made a few Sidewinders, which were built in Dearborn, shipped to Omaha, and sold in Iowa and Nebraska. They were available in Grabber Green, Grabber Blue, Calypso Corral, and Yellow. The stripes came in the trunk and the dealers had the option of installing them on the car.
Boss 429 sported a 429 cubic inch hemi-head V-8 that required suspension modifications so it would fit. Only 499 Boss 429s were made in 1970. They were available in Grabber Blue, Grabber Green, Grabber Orange, Calypso Coral, and Pastel Blue. Interiors were black or white.
The 789 remaining 1969 Shelbys in Ford inventory after the model year were titled as 1970 models. These were modified to include a front air dam and a blackout point treatment around the outboard hood scoops.
Ford created two 1970 Boss 429 Lawmen Mustangs for tour to U.S. troops. Only one of these 1200-horsepower beasts survives today, and it was sold to wrestler Bill Goldberg in the 2003 Barrett-Jackson Auction.
Air conditioning is all the rage, causing convertible sales to shrink by nearly half.
The Mach 1 receives grooved aluminum rocker moldings along with prominent die cast "Mach 1" badging.
Engines
200cid 1V 6-cyl 120HP T Code
250cid 1V 6-cyl 155HP L Code
302cid 2V V8 220HP F Code
351cid 2V V8 250HP H Code (351W & 351C)
302cid 4V V8 290HP G Code (Boss)
428cid 4V V8 300HP M Code
428cid 4V V8 335HP Q Code (Cobra Jet)
428cid 4V V8 335HP Code R (Cobra Jet-R)
429cid 4V V8 375HP Z Code (Boss)
Production
Special, Boss 429: 499
Special, Boss 302: 7,013
Fastback, Mach 1: 40,970
Fastback: 45,934
Coupe, Grandé: 13,581
Coupe: 82,569
Convertible: 7,673
-Total-: 191,239
Prices
Coupe, standard: $2,721
Fastback, standard: $2,771
Coupe, Grandé, standard: $2,926
Convertible, standard: $3,025
Fastback, Mach 1, standard: $3,271
Special, Boss 302: $3,720
GT350 Fastback: $4,434
GT500 Fastback: $4,709
GT350 Convertible: $4,753
Special, Boss 429: $4,928
GT500 Convertible: $5,027
Colors
Calypso Coral
Dark Ivy Green Metallic
Grabber Blue
Grabber Green
Grabber Orange
Light Ivy Yellow
Medium Blue Metallic
Medium Lime Metallic
Pastel Blue
Raven Black
Red
Silver Blue Metallic
Wimbledon White
Yellow
Bright Gold Metallic
Medium Gold Metallic
Recent Forum Posts
Participate In The Forums
Create new posts and participate in discussions. It's free!
Sponsored Links