Ford Mustang History
1972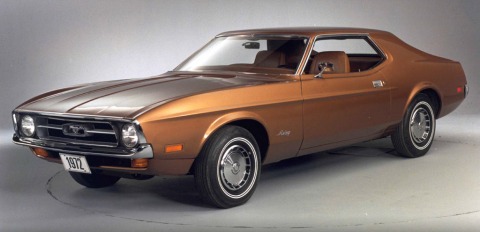 A standard hardtop is the top-seller, as the Mustang exterior is almost entirely a carryover. A unique design element for this generation of the hardtop is the sail panels, which sweep the length of the rear deck. While the 1971 Mustang had "MUSTANG" in block letters across the width of the decklid, the 1972 model had a small "Mustang" script on the right side of the decklid.
Government regulations required changes in the way engines were rated, and while the output remained the same from 1971, the horsepower ratings dropped damaging the image of the Mustang as a muscle car.
The engine lineup is pared to five. Notable is absence of the Boss 351. A detuned 351 cid V8 does little to allay the fact that a bigger, if ungainly, car works against the grain of the performance enthusiast. And, at this point, who else is there? Sales fall to 119,920 for the '72 model year.
Tighter emissions standards lessen the possibilities for performance while making a stronger argument for styling and luxury. Woodgrain trim and vinyl finished seats and one touch convertible roof controls become prime selling points.
Mustang celebrated the 1972 Olympics in Los Angeles with the Mustang Sprint. Sprints were white with blue rocker panel paint, hood stripes, and seat inserts and a USA shield on the rear quarter panel. All of the cars came with the standard "dog dish" hubcaps, but most owners have replaced them with Magnum 500 wheels. Ford made 800 Sprint fastbacks, and 50 convertibles were made for the Washington, D.C. Cherry Blossom Festival. It was recently learned that 6247 Sprint coupes were also offered.
Engines
302cid 2V V8 140HP F Code
351cid 2V V8 177HP H Code
351cid 4V V8 266HP Q Code (Cobra Jet)
351cid 4V V8 275HP R Code (High Output)
250cid 1V 6-cyl 98HP L Code
Production
Fastback, Mach 1: 27,675
Fastback: 16,622
Coupe, Grandé: 18,045
Coupe: 57,350
Convertible: 6,121
-Total-: 125,813
Prices
Coupe, standard: $2,679
Fastback, standard: $2,736
Coupe, Grandé, standard: $2,865
Convertible, standard: $2,965
Fastback, Mach 1, standard: $3,003
Colors
Bright Lime
Bright Red
Dark Green Metallic
Gold Glow
Grabber Blue
Ivy Glow
Light Blue
Maroon
Medium Bright Yellow
Medium Brown Metallic
Medium Green Metallic
Medium Lime Metallic
Medium Yellow Gold
Wimbledon White
Bright Blue Metallic
Light Pewter Metallic
Recent Forum Posts
Participate In The Forums
Create new posts and participate in discussions. It's free!
Sponsored Links