by shnack on Friday,
April 16, 2004
Comments (0)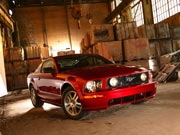 LEBANON, Tenn. -- What would it feel like if something you created ended up on a postage stamp?
Don Frey knows. The man tapped by Henry Ford II to lead the Mustang's introduction more than four decades ago got a letter from a friend a few years ago and noticed the stamp bore a picture of the original 1965 Ford Mustang convertible.