by shnack on Tuesday,
January 15, 2013
Comments (0)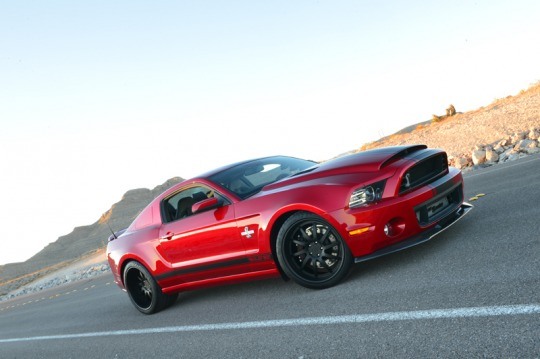 Shelby American, Inc. unveiled today its new 850 horsepower 2013 Shelby GT500 Super Snake "Wide Body" as well as the new performance tuned Shelby Focus ST at the North American International Auto Show. The two cars represent bookends in the lineup of high performance vehicles available from Shelby American.

"Carroll Shelby's innovative and aggressive hot-rodder spirit lives on at Shelby American today. " said John Luft, president of Shelby American. "His Cobra redefined the sports car genre and then Shelby turned what some called a 'secretary's car', the Mustang, into the fire-breathing GT350. A few years later, Shelby practically invented the American 'pocket-rocket' with the four-cylinder turbocharged, front wheel drive Shelby GLH. This year, we're returning to our roots with a pair of game-changing cars that will rewrite the rules for American performance."

Shelby American takes the stock 662 horsepower 2013 GT500 and boosts its performance to a street-legal 850 horsepower while keeping it 50 state emissions legal and tuned on 91 octane pump gas. Adding Shelby's new Wide Body option puts all that power to the pavement, and the rest is history.