by shnack on Friday,
October 29, 2004
Comments (0)
Oct 28, 2004 By: Saleen Inc.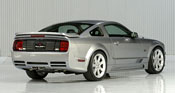 The first thing to capture any viewer's attention is the S281's dramatic styling - boldly new from stem to stern.
Its signature long hood and short rear deck emphasize the Saleen muscle under the bonnet and its traditional rear-wheel drive. Those proportions also give the Saleen a ready-to-launch-itself-down-the-road appearance even when the S281 is standing still.